Emotional & Binge Eating Disorder Weight Loss Treatment Program: TheHealthyWeighOut
An Emotional & Binge Eating Weight Loss Treatment Program that will End Your Battle with Food!
Our 3-Pronged Approach will Re-Define your Relationship with Food, Body, Weight & Self
TheHealthyWeighOut 6-Week Emotional & Binge Eating Program is truly a dynamic, life-changing program that incorporates the philosophy and content of our innovative 3-pronged approach within a 6-week concentrated outpatient program. Allowing participants to work and remain at home while engaging in an "intensive" outpatient format has proven to create genuine change for our participants. Learning new concepts, and then being able to practice and implement those changes while in your "real life" environment, gives participants an exciting chance to learn, practice, and then return for additional help and encouragement, within our 6-week supportive structure.
While most participants begin our program with a strong desire to lose weight, most are intrigued and pleasantly surprised at how quickly "the number on the scale" becomes secondary to the incredible changes they find themselves experiencing in the multiple "other-than-weight" areas of health and improvement, including:
Learning "why" and what drives your chronic overeating
Learning to stop overeating & binge eating behavior
Developing the ability & skills to successfully manage food cravings
Developing the ability to comfort yourself, without using food!
Developing satisfying, "nourishing" relationships
"Intuitive Eating" skills for effective weight loss and weight management
Additional Benefits: Self-Acceptance & a Healthier Body-Image
But it doesn't stop there! Participants learn so much more than an initial improved relationship with food. Through our 6-week program, you will also come to;
Value yourself more
Accept yourself more
Have greater compassion for your body, weight & size
Learn how to support yourself toward greater health & a healthier weight, as opposed to "hating" yourself unless you lose weight
Long-term weight loss, utilizing sustainable intuitive eating skills
Program Structure: "Classic" 6-Week Program
Our program takes place over a 6-week period of time and uses a unique hybrid format. Our innovative structure allows for a powerful combination of cohesive SMALL group formatting (3-7 people in each group) and individualized, one-on-one services.
Specifically, participants engage in three 2-day retreats over a 6-week period of time. These retreats occur on a Friday and Saturday and run all day, with a catered family-style lunch on each day. Within each 2-day retreat, we address the Emotional, Nutritional & Physical fitness aspects of our 3-pronged approach to developing a healthier relationship with food, eliminating emotional & binge eating, and starting a sustainable weight loss process.
In between every 2-day retreat cycle, participants engage in weekly Nutritional & Physical fitness one-on-one services, scheduled throughout the week at your convenience.
Two Flexible Levels of Care!
We realize that not all people are the same and that different individuals want, and oftentimes require, different levels of care. Therefore, we are pleased to offer our participants two levels of care within our 3-pronged 6-Week Emotional & Binge Eating Weight Loss Program:
"

Jump Start

" – This is our classic, most popular level of services within our 6-week program. Participants signing up for this level of programming will engage in the three 2-day retreats and will engage also in:

Weekly, one-on-one, 50-minute Nutrition therapy sessions for a total of 6 sessions with our registered dietitian, Kristine Sinner
Twice a week, one-on-one, 50-minute PRIVATE Physical fitness sessions for a total of 12 sessions with our "intuitive exercise" fitness specialists, Marta Malloy, MS or Terri Hay
Participation in up to four, small group 50-minute training sessions per week, in our PRIVATE Intuitive Exercise Studio with other TheHealthyWeighOut Alumni
2. "Gentle Start" – This level of care is for those participants who want a "gentler" introduction to our 3-pronged approach. Participants signed up for this level of programming will engage in all 3 of our concentrated 2-day retreats, but will not engage in one-on-one services.
Here is a nice visual of our two program options for the 6-Week Emotional & Binge Eating Program: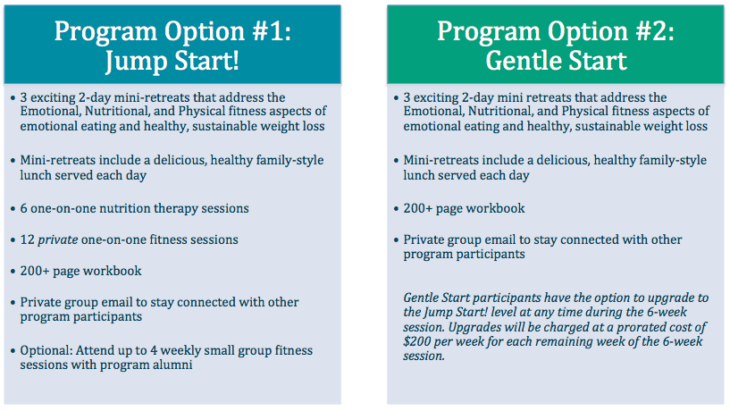 3.

NEW!

"Platinum Start"

4-week Customized Individual Program
Perfect for executives, out-of-town participants or simply individuals who prefer a private, individual TheHealthyWeighOut program experience, we offer this exciting new option!
Our TheHealthyWeighOut curriculum is delivered in a concentrated individual structure that takes place over 4 consecutive weeks. Programming can occur on any 4 consecutive days of the week, allowing out-of-town participants to travel back to home states for a long, 3-day weekend each week, if desired. Program services include one-on-one instruction, in the following 3-pronged areas:
Emotional: one-on-one curriculum instruction, 2 days per week, for 1.5 hour each session
Nutritional: one-on-one curriculum instruction, 2 days per week, for 1.5 hour each session
Physical fitness: one-on-one, 50 minute movement sessions, 3 days per week, in our unique and private BodySAFE Exercise Studio* *The level of intensity and specific activities will be adjusted and based upon your individual physical fitness ability level
One-on-one, individual therapy: An additional option that is VERY popular and recommended for most everyone who goes through our HWO program is the option to ADD individual therapy to your concentrated individual program, directed toward emotional and binge eating core work and resolution. We recommend that participants engage in individual therapy, 2 times per week, as an adjunct to the above skills-based program. Please note that individual therapy is NOT included in the price of the program. Discounted package rates are available for participants choosing to add individual therapy to their 4-week customized program.
Lodging & Food for our Out-of-Town Participants:
TheHealthyWeighOut provides a number of convenient options for our out-of-town guests traveling to beautiful Scottsdale, Arizona!
1. Participants are encouraged to either stay in a hotel "suite" facility that allows for simple cooking, or to stay in one of the abundant condominiums that are readily available to rent in the Scottsdale area. We are happy to help participants with location and search options, if desired.
2. Participants can shop and cook for themselves (something we typically review in our program), or we can arrange "home delivery" food services that we have available to utilize for our participants.**
**Accommodations and food costs are the responsibility of the participant and are NOT included in the cost of TheHealthyWeigOut program.
We are SO very proud of our Life-Changing program, but don't take it solely from us!
Watch this video from a very pleased, very proud, former TheHealthyweighOut participant and you'll be excited too!
Ready for change? We'd love to see you in our next 6-Week Emotional & Binge Eating session! Click here for dates of upcoming sessions.
SaveSave
SaveSave
SaveSave
SaveSave
SaveSave
SaveSave