Customized Individual 4-Week Program
NEW!

"Premier Start" 4-week Customized Individual Emotional & Binge Eating Weight Loss Program
Perfect for executives, out-of-town participants or simply individuals who prefer a private, individual program experience, we offer this exciting new option.
Our TheHealthyWeighOut curriculum is delivered in a concentrated individual structure that takes place over 4 consecutive weeks. Participants can either choose to stay in Scottsdale, AZ for the full month (living costs not included in the program), or services can be scheduled over four consecutive days of the week, allowing participants to fly back home for a long 3-day weekend each week for 4 weeks.
Premier Start services include one-on-one instruction, in the following 3-pronged areas:
Emotional: one-on-one curriculum instruction, 2 days per week, for 1.5 hour each session
Nutritional: one-on-one curriculum instruction, 2 days per week, for 1.5 hour each session
Physical movement: one-on-one, 50 minute movement sessions, 3 days per week (the level of intensity and specific activities will be adjusted and based upon your individual physical fitness ability level)
Here is a chart showing all that is included in the Premier Start level of our program: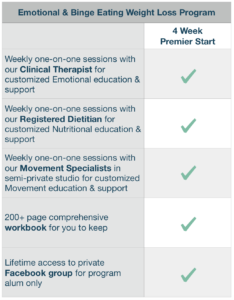 One-on-one, individual therapy: An additional option that is VERY popular and recommended for most everyone who goes through our HWO program is the option to ADD individual therapy to your concentrated individual program, directed toward emotional and binge eating core work and resolution. We recommend that participants engage in individual therapy, 2 times per week, as an adjunct to the above skills-based program. Please note that individual therapy is NOT included in the price of the program. Discounted package rates are available for participants choosing to add individual therapy to their 4-week customized program.
Wondering how the 4-week Premier Start program differs from our 6-week small group programs, Jump Start and Gentle Start? Here's a quick comparison:

Lodging & Food for our Out-of-Town Participants:
There are a number of convenient options for our out-of-town guests traveling to beautiful Scottsdale, Arizona!*
1. For lodging, participants are encouraged to either stay in a corporate-style hotel "suite" or condominium, both of which would allow for simple cooking. Both of these lodging options are readily available to rent in the Scottsdale area. We are happy to help participants with location and search options, if desired.
2. For meal preparation, participants can grocery shop and cook for themselves (something we typically review in our program), and/or we can help to arrange "home delivery" food services so that healthy, delicious meals are prepared for you. Many participants opt for a hybrid of these two, such that they prepare some meals on their own and have some prepared for them.
* Please note, accommodations and food costs are the responsibility of the participant and are NOT included in the cost of TheHealthyWeighOut program.
So, if you are wanting a concentrated "Premier" Customized individual treatment experience, our new "Premier Start" program is perfect for you!
SaveSave
SaveSave
SaveSave
SaveSave
SaveSave