TheHealthyWeighOut: for Kids & Teens!
Watching your child struggle with food and weight issues can be a heartbreaking experience. Like most parents, you may be feeling frustrated that they can't "just stop" their behaviors, scared that things will get worse, and unsure where to turn for help!
At TheHealthyWeighOut, we understand how to help children, teens, and their families resolve this issue once and for all.
Because we know diets are dangerous (and oftentimes backfire into disordered eating and related weight gain), our program is leading the nation in moving away from restrictive dieting practices that fail 95% of the time.  Our approach teaches kids to get back to healthy "intuitive eating" practices and to fall in love with healthy consistent movement so that their bodies can return to, and then maintain, their ideal body weight.
Our no-diet program works with kids and their families to battle childhood overeating in a safe and FUN way. Families are invited to take advantage of one, two, or all three of our program components: emotional, nutritional, and/or movement.
Emotional Treatment
Children and teens affected by food and weight issues may also experience emotional issues that are uniquely connected to their eating behaviors. Like adults, some children eat excessively in response to stress and boredom. Therapy is a safe place for kids to explore these issues and better understand how to cope with their feelings without the use of food. Family members, such as parents and siblings, are often an integral part of this process.
Delivered by our team of non-judgmental, compassionate clinicians who specialize in working with children and teens, families are able to work towards healthy, responsible, and sustainable behavioral change!
Nutritional Treatment
Nourishing a growing body is no small task, and it is so important for children and their parents to understand this delicate balance of knowing what and how much to eat without making food the focus of every day!
Our skilled and compassionate dietitian, Melissa Daniels Bloom, MS, RD, loves working with families to help them understand nutrition throughout the growing years. She works alongside parents teaching them what and how much to serve, and helps children understand why it is so important to properly fuel their bodies (while also enjoying typical "kid foods" with their friends).
Physical Activity
Establishing an active lifestyle in the early years sets into motion a wonderful relationship with exercise and health for years to come. Children affected by weight issues may be resistant to exercise because it has become associated with weight loss, it's uncomfortable, or it's simply not fun.
At TheHealthyWeighOut, our personal trainer, Terri, is stellar in helping kids and teens reclaim their love of movement. From basketball games to boxing to training for a sports event, children are taught that movement can be both good for your body and super fun!  In a quiet, semi-private boutique movement studio suitable for people of all ages, kids (and their families!) feel safe and accepted just as they are and have a great time as they develop healthy movement skills!
Getting Started: Treating Childhood Overeating
Since all of our programming for children and teens is individualized, the first step is to contact our office for an initial assessment.  This 50-minute session will be conducted by one of our team's eating disorder and weight management specialists who will review with you your child's history and current factors associated with weight, dieting, activity levels, relationship with food, and emotional status.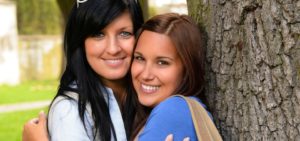 During this assessment, we will provide an abundance of education and information, and we encourage you to ask any questions you may have related to your child's struggles and/or our treatment recommendations.  We will then assist you in creating an individualized treatment plan that will most likely involve the 3-pronged areas of our program; Emotional, Nutritional and Physical movement.
Many times, it is very helpful for family members to be involved in all aspects of the treatmentprocess and we encourage family members to join in with fun physical training sessions, when appropriate.
Curious which treatment professionals are necessary in supporting your child's recovery process? Check out Dr. Ashley's WeighOut Wednesday video on this very topic:
SaveSave
SaveSave
SaveSave