FREE Introductory Services & Money Back Guarantee!
Time after time we hear from prospective participants just how difficult it is to commit to investing a significant amount of time, money, and pride in what is oftentimes seen as "yet another" weight loss program. We understand how vulnerable it can be to trust that a program will follow through with delivering what they propose they will, and to risk trying to be successful one again at achieving the behavioral change you desire, when past attempts have disappointed you.
That is why TheHealthyWeighOut offers a FREE introductory session and a FREE Physical fitness "Meet & Greet" for anyone interested in participating in our Emotional & Binge Eating Program.
Both of these introductory sessions are directed toward mutually exploring if our program is a good fit, and if you would benefit from becoming the next member of our TheHealthyWeighOut community. There is absolutely no obligation, and nothing to lose except your fear and apprehension!
Two Easy Ways to Meet Our Team and Learn More About How Our Program Will Change Your Life!
1. FREE Assessment for TheHealthyWeighOut Emotional & Binge Eating Program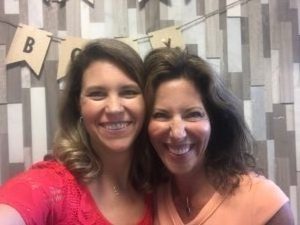 Come in and meet with one of our emotional eating specialists for a no-obligation assessment. During this approximate 50-minute session, we will explore the many reasons why you are interested in our program; and review your personal goals & needs related to our program, your dieting history, and your readiness to start our program. We will answer your questions about the program and give you a thorough overview of our program so you'll know exactly what to expect, should you join us.
These gentle, informative assessments are most often conducted by one of the passionate Co-Founders of our program, Dr. Julie and Dr. Ashley!
If our program is not right for you, we will make other recommendations and help to facilitate you getting the help and services you need and deserve.
2. FREE "Meet & Greet" with our Intuitive Movement Specialists
Meet with either Marta Malloy or Terri Hay, our compassionate "Intuitive Movement" specialists, for a 30 minute no-obligation "Meet and Greet" session.
During this no obligation informal session, your movement abilities, personal health goals, and current obstacles to healthy activity will all be discussed in a kind and supportive manner. Additionally, any concerns you may have regarding your ability to participate in our program can be privately discussed at this time. We will answer your questions and put you at ease! Please note, there is no physical activity or training done during this "meet and greet."
Are we Confident in our Program? You Bet. TheHealthyWeighOut's Money Back Guarantee!
SO confident that our groundbreaking 6-week Emotional & Binge Eating Program will change the manner in which you think about food, interact with food, and behave in relationship with food, that we offer a 100% Money Back Guarantee to anyone who, upon full completion of our 6-Week Emotional & Binge Eating Program* is not satisfied with what they've learned or their experience of our innovative 6-week program.
We believe so deeply in the concepts outlined in our program and have such a great commitment to helping those who struggle with overeating, emotional eating, binge eating disorder, and chronic struggles with weight, that we are willing to make this offer of reassurance that our program WILL make a difference in your life!
*This satisfaction guarantee is offered to those participants who join at the "Jump Start" level of programming, and who have been fully committed to ALL aspects of their 6-week program, as described in our Money Back Guarantee program requirements. Please contact us via phone or email for a comprehensive list of requirements that apply to qualify for our Money Back Guarantee before starting your program.
If you have been struggling alone for decades, there's no longer a reason to struggle alone!
SaveSave
SaveSave
SaveSave
SaveSave
SaveSave