"The Deeper Work" for FULL Emotional Eating Recovery
"The Deeper Work" ~ Our Signature Approach to FULL Recovery from Emotional & Binge Eating
Dr. Julie & Dr. Ashley, the co-founders of TheHealthyWeighOut, credit their professional success and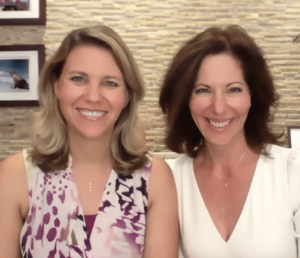 international following to their unique approach that effectively helps you "connect-the-dots" between your oftentimes frustrating and CONFUSING eating behavior, and the underlying "hidden pieces" that are related to your emotional, relational, and/or psychological issues that are unconsciously being "managed" through your relationship with food
This is what we call, "The Deeper Work."
Through awareness, education, and encouragement, it IS possible to develop a healthy relationship with food! But first, it's necessary to understand the deeper layers of the not-so-obvious psychological and emotional roots that can give rise to your seemingly unrelated compulsion to overeat.
A Life-Changing Approach that Ends Binge Eating:
The 7 Layers of "The Deeper Work"
What are the 7 LAYERS of "The Deeper Work?"
Each unfolding layer of "The Deeper Work" is instrumental to building a healthy relationship with food, Body and Self.
Join us and we'll help you develop a healthy relationship with your Body and your Self ~ from the inside-out! Themes that we have found to be the foundation of helping you end binge eating for Life consist of the following 7 "Layers" of "The Deeper Work":
 Diet Debris: Healing Trauma Related to Food & Weight
 With Compassion & Curiosity: A Kinder Approach to Your Emotional Self 
 Learning to Love Your Vulnerability 
 Healing from Dysfunctional Roots:  The Gift of Re-Parenting
 Permission to Be Your Real Self
 Lonely No More: Creating Safe Emotional Intimacy
 Feed Your Soul
How to do "The Deeper Work" with us.
You can experience "The Deeper Work" through a multitude of personalized ~ and powerful ~ experiences.  Choose the avenue that feels most comfortable for you!
Podcast:  Coming in 2021!
Dr. Julie & Dr. Ashley sharing their personal brand of friendship, passion for FULL recovery, and 44 years of combined expertise in the areas of emotional eating, binge eating, eating disorder recovery and "Feeding Your Soul" for a Life the is unapologetically healthy, THRIVING ~ and fulfilled!
And, has COMPLETE Freedom from Food 🙂
Circle of HOPE: Our GLOBAL Virtual Membership Community
EXPERIENCE "The Deeper Work" in this innovative, GLOBAL platform where you have access to Dr. Julie & Dr. Ashley through weekly educational VideoCasts. Submit personalized questions to be answered by Dr. Julie & Dr. Ashley in bi-weekly VideoCasts, as well as enjoying education and Q and A VideoCasts with our emotional eating dietitian experts, Amy Reynolds, RD and Demi McGauley, RD.
Receive an abundance of additional weekly supportive, educational videos ~ think "Nudge of Encouragement" and "Recovery Hacks" ~  by Dr. Julie & Dr. Ashley to help inspire you as you move through your week, working on emotional eating recovery and learning to love and value your Self.
Connect regularly and share support with like-hearted Circle of HOPE members who share common struggles and goals ~ from ALL over the world!
Additionally, come together through our NEW informal "Gathering" virtual events where our members have the opportunity to interact "live" with Dr. Julie & Dr. Ashley. During these really special informal opportunities, there is time to connect through virtual zoom platform with our entire GLOBAL membership Circle of HOPE community. It is a beautiful, SUPPORTIVE virtual treat for our members. <3

Consultation:  Coming in 2021!
Dr. Julie and Dr. Ashley are proud to offer one-time consultation for your personal "The Deeper Work" journey. Consultations are not therapy sessions and do not constitute entering into a therapeutic relationship with Dr. Julie or Dr. Ashley.
Consultations are a 1.5 hour "Deep Dive" into your personal history and current eating behavior so as to learn what are your potential "hidden pieces" that are contributing to your struggle with food, Body or Self.
During this one-on-one consultation, we'll help you to connect-YOUR-dots and provide psycho-education regarding relevant points. If desired, we will then point you in the direction of exploring your own personal work with a therapist or related support in your geographic area.
Therapy:
Engage in a personal and deep therapeutic transformation working with our team of Emotional & Binge Eating experts. We offer both in-person and virtual therapy services to anyone residing in Arizona or other states operating within our licensure requirements.
Our professional team proudly offers individual therapy where you can explore your very personal "deeper work" with a trusted professional who understands the emotional and psychological components that create and maintain your psyche's need for food.
To learn more about our comprehensive therapeutic & nutritional services, please check out our innovative outpatient treatment center, A New Beginning (the parent company of TheHealthyWeighOut).

Want a taste of our signature approach, "The Deeper Work?"
Watch a clip from one of our VideoCasts in our global virtual community, Circle of HOPE, in which Dr. Julie and Dr. Ashley address "The Deeper Work of Intuitive Eating Principle #1"
SaveSave
SaveSave
SaveSave
SaveSave