At TheHealthyWeighOut, all of our programs provide you with the information and experiences you need to finally break out of emotional and binge eating, dieting, and an overwhelming relationship with food. Our no-diet approach to changing your relationship with food is based on our revolutionary ~ and effective! ~ 3-pronged approach that addresses the following areas:
Our Emotional component explores the emotion-driven and psychological aspects of your overeating, emotional eating, and/or binge eating behavior.

Our educational and experiential Emotional learning sessions will teach you how to change your relationship with food, with an emphasis on developing effective emotional coping skills that replace the need to reach for food. In addition to skill building, we will gently explore the many underlying emotional processes (i.e., avoidance of conflict, passivity in relationships, emotional overwhelm) that may be driving your misuse of food. Weekly at-home activities additionally provide the opportunity for a deeper, more personal exploration of your emotional relationship with food.

Our Nutritional component explores the many nutritional and physiological components involved in your relationship with food, food cravings, overeating tendencies – and helps you achieve healthy, balanced eating for long-term, successful weight management!

Educational and experiential nutrition learning sessions explore the science of nutrition and food cravings, and will teach you how to relate to food in a non-dieting way. From grocery shopping to mindfully eating at a table, our Registered Dietitian can help you craft a nourishing relationship with food free of anxiety, dread, and feeling out of control.

Our Physical Movement component helps you to start moving again in a manner that is effective and enjoyable; and which helps you to incorporate consistent, moderate physical activity into a new balanced lifestyle that promotes health and sustainable weight loss.

All participants engage in FUN gentle group activities that are designed to (re)connect you with the joy of moving. Our goal is to help you find movement that is enjoyable, so you look forward to healthy activity.
… But, what will I GET out of this program?
What words cannot describe, perhaps this video will!
A Variety of Options to Help You Experience Success
Currently, we offer three Emotional and Binge Eating Disorder Programs:
I. Our Classic 6-Week Small Group Emotional and Binge Eating Program with TWO levels of participation!
This program is spread out over the course of 6 weeks, with three 2-day small group educational / experiential retreats conducted at the beginning, middle, and end of the 6-week session. Participants have the option to just attend these three retreats (total time commitment of 6 days), which is know as our Gentle Start level. For participants wanting more customized care, the Jump Start level includes these three retreats days plus weekly one-on-one sessions with the Registered Dietitian and twice weekly one-on-one sessions with the Personal Trainers. All participants, regardless of level of participation, receive catered lunch at the three retreats and a beautiful 200+ page workbook.
II. Our 4-Week Individualized Emotional and Binge Eating Program
This program, known as Premier Start, is spread out over the course of 4 weeks, and all services are delivered in a one-on-one format (no small group retreats). Utilizing the same workbook that is given out in the 6-week program, Premier Start participants engage in 9 hours of services each week: 3 hours with Clinical Therapist, 3 hours with Registered Dietitian, and 3 hours with Personal Trainer. This concentrated and customized approach is perfect for anyone who is ready to take a time-limited "break" from life and primarily focus on resolving their eating issues.
**Please note, individual therapy with one of our experienced emotional eating specialists can be added to any of these programs for an additional cost.**
Not sure which program level is right for you? No problem.
This chart showcases our four service options (3 program levels + à la carte services) and their associated "pros." Whether you're looking for a flexible schedule, customized services, or social support from other binge eaters, we are sure to have a program that meets your needs!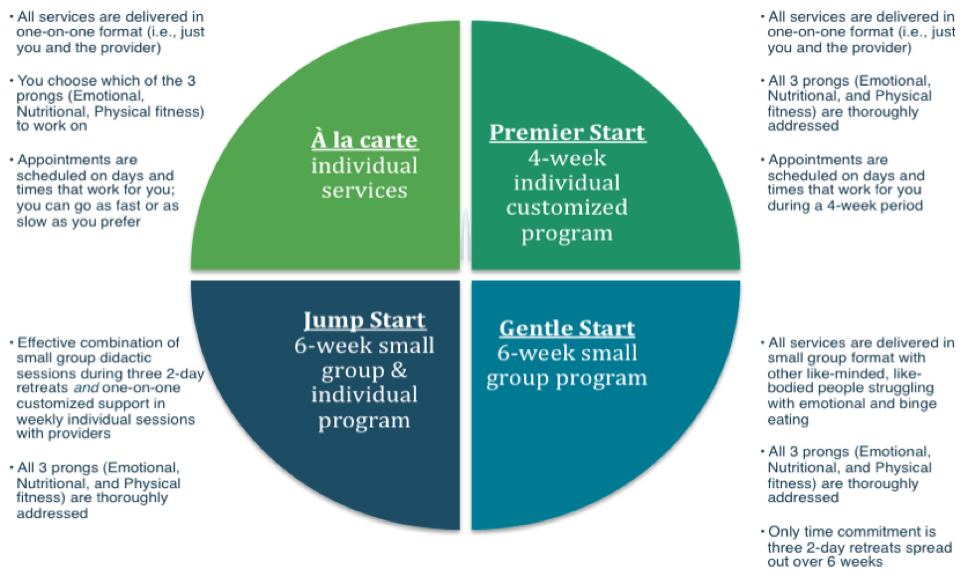 If you're still not sure which program level is best for you, our program co-founders, Dr. Julie and Dr. Ashley, are happy to speak with you on the phone and/or to provide a free, no-pressure consultation to determine which service(s) may best suit you. You can contact us anytime via email at contact@thehealthyweighout.com or phone at (480) 941-6999 to schedule a consultation. SaveSave
SaveSave
SaveSave
SaveSave
SaveSave
SaveSave
SaveSave
SaveSave
SaveSave